Medieval Art by François Thibault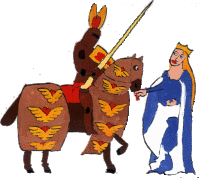 I am a scribe in the Society for Creative Anachronism, an organization dedicated to recreating the good parts of medieval life. In the SCA, a scribe is someone who creates scrolls given to people who get awards. I've been making scrolls for about seven years now; you can look over my portfolio if you're interested. This store sells merchandise carrying art taken from some of these scrolls.
Unlike many places that sell medieval-style wares, I document the sources of all my artwork, so that you can be assured that you're getting art based on genuine medieval works. I also provide notes on the materials and techniques used.
You may also be interested in my wife's similar store.
Note that this site is maintained manually, and is not automatically updated when I modify the contents of my store at CafePress.com. As a result, this site may be out of date; please consult the listings at my store for accurate information. This site serves to give fuller descriptions of the artwork than I have room for at CafePress.com.
All text and images on this site are copyright (c) John Stracke. (François Thibault is the medieval name I use in the SCA.) Contact me